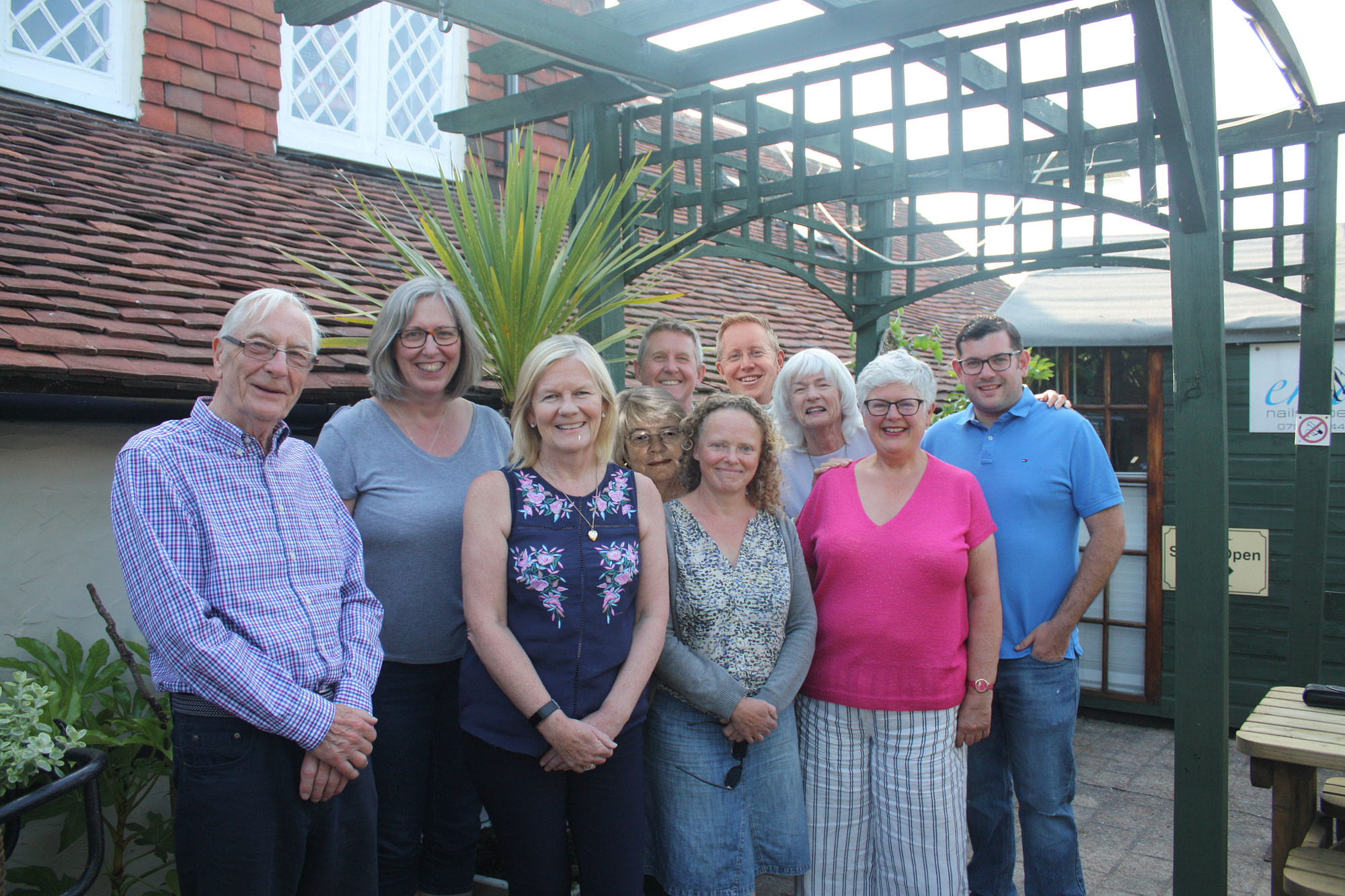 The Steyning & District Food and Drink Festival is being brought to you by a superb team of hard working, innovative, dedicated people – all volunteers !
The amount of voluntary time they have given to the event is quite mind blowing, but as long as it is successful and enjoyed by many, it is all worth it. Would you like to help next year? If so, we would love to hear from you. Please email: steyningsouthdowns@gmail.com
Martin Leigh-Pollitt
Due to ill health last year, Martin has retired from the official side of the V & T Committee – i.e. the onerous task of being Chair and Committee member – but he is still at the other end of a phone whenever we need him.   For the Food & Drink Festival he has supported us with event ideas and chasing up to get the details confirmed and completed.   However, he has not joined us for the Zoom meetings which have become necessary in this difficult days – Zooming is not his most favourite new invention 😊
Reina Alston
Chair of the Visitor & Tourism Group – a sub committee of the Steyning & District Community Partnership, of which she is also one of the directors. Reina looks after the admin/PR side of the Festival and is responsible for "nagging" to make sure deadlines are met ! Reina enjoys working with the local magazines and newspapers who all give us such fantastic support, making sure as many people as possible know about the Festival.
Nick Hempleman
The picture above shows Nick with his wife Nina alongside the glorious red, vintage tractor that welcomes visitors to his store.  Nick owns the Sussex Produce Company, winners of  the Sussex Food & Drink Awards Best Food Shop 2009/2012 & 2018, and brings a wealth of experience to our Group,  especially for his young years . He is always ready with new ideas for the Festival to keep it fresh and interesting and is heavily involved in arranging some of the events we have on offer – and making sure they happen.  His shop offers a vast showcase for local produce so being involved with our Festival is a natural progression and only further emphasises his support for this culture.
Lou Crush
Lou's father, Derek Crush, was the instigator of the Steyning Farmers Market back in 1991. Since then it has grown to be one of the best loved events in the town and in 2014/2015 the Steyning Farmers Market won the Sussex Food & Drink Awards Best Sussex Farmers Market and in 2018 were Grand Finalists. Lou and her Father work closely together making sure that the regular monthly Market continues to thrive and takes on new ideas and concepts. Following in her Father's footsteps, this year Lou took on the position of Judge for the Festival  Allotment Competition. Her enthusiasm and knowledge of all things rural is an essential asset to our team.
Eddie Woodward
Eddie (on the left) is the owner of Cobblestone Walk – a major retail outlet within the town – and is another of our team who gives so much time and energy to the Festival, together with his expertise.  In the past he also ran the Cobblestone Tea House, so food and drink is another of his great passions. He is an enthusiastic Steyning supporter and loves nothing better than volunteering his time for the benefit of the town.  A much valued member of both the Partnership's Visitor & Tourism Group and the Food & Drink Festival Committee.
Les Nicholson
Les – and his wife Louise – own The Artisan Bakehouse in Ashurst, 2018 winners of the Sussex Food & Drink Awards Best Eating Experience. As with all our Committee, Les is ultra busy running his own establishment and yet manages to give so much of his precious time/new ideas to the Festival. Being one of our Ashurst businesses, he makes sure his village plays an important part within the Festival. Check out the Ashurst Tasty Walk – an event which Les spear headed – together with  all the wonderful special events that the Bakehouse hosts during the Festival season. Les is also another member of the Partnership's Visitor & Tourism Group, and again much valued.
Janice Fraser
Janice is another energetic member of the Visitor & Tourism Group, who this year has taken on the massive challenge of heading up Social Media for our Food & Drink Festival. With her wealth of experience both from her days of working in the hospitality industry and her many years as Worthing's Tourism Development & Marketing Officer, Janice brings so much to our band of hard working Committee members. Living, with her husband, in the heart of Steyning, she is never slow in volunteering her precious time to help the town and is much valued by all.
Denise Butler
Denise joined our Visitor & Tourism Group last year, and volunteered to take on the task of our Secretary.  She now produces  the Minutes for our monthly meeting, which takes some doing when we all talking at a hundred miles an hour about all the projects we have in hand !  She moved to Steyning around 2 years ago, and has enthusiastically embraced the community way of life and has become involved in quite a few groups, not just the Community Partnership.   She quickly agreed to help on our Festival Committee and is taking on the responsibility of helping with the admin side of things including assistance with the Shop Window Competition and getting our printing etc. in place.
Diana Couling
Diana has lived in the area for many years, running a Bed & Breakfast business right in the heart of Steyning. This year she has decided to "hang up her apron", but is still heavily involved in all things community driven.. A lover of walking, she is the person to go to if you need guidance on which path/trail will take you where ! In fact, she leads the annual Food & Drink Festival Ashurst Tasty Walk which begins at The Fountain pub for lunch and finishes for tea at The Artisan Bakehouse. Diana is an enthusiastic supporter of all things local and puts her heart and soul into any project she takes on. Her input is greatly appreciated.
Alison Durcan
Alison has only recently moved to Steyning but has very quickly thrown herself into volunteering to help and support the town.   As a new member of the Partnership Visitor & Tourism Group she was keen to step forward to join our Festival Committee as well.  Steeped in experience of organising events & projects, she helps and assist within the Admin side of our event – especially the website – which is a huge part of the work.    It also covers such areas as collecting all the data for the guide listing the offers and events,together with amassing the details of all the businesses involved.  We are so pleased she moved to Steyning – do not know how we coped without her😊   
Thanyou to our wonderful 2020 sponsors 
To find out more about them, please click on their logo